Ulti-Mate™ Soap Dispenser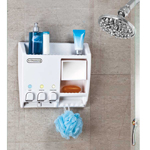 Ulti-Mate™ Soap Dispensers provide a place to store everything in the shower. No more bottle clutter, now there is a place to put all of your shower products from shampoos and body washes to razors and washcloths, everything can be stored in one convenient place. The Ulti-Mate Dispenser offers easy-to-fill compartments along with a fog-free mirror and shelving to store everything.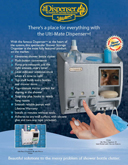 Better Living Products has won a succession of awards for products and display superiority throughout North America and beyond. This company is proud that its products are offered to consumers in the area of bathroom and kitchen dispensers for guest accessories and residential applications.







(click on the image to see a large view)
The Ulti-Mate™ Dispenser eliminates shower clutter and includes a fog-free mirror perfect for shaving. The dispenser pre-measures a precise amount of soap shower after shower.... The top shelf holds extra shower items and the bottom hooks give a convenient place to hang razors and washcloths. The smooth pump offers a Lifetime warranty.

The Dispenser installs quickly without tools using silicone glue and two-way tape (included).




73350: 13"W x 3 5/8" D x 11 3/4" H

The Ulti-Mate™ Dispenser in satin nickel eliminates shower clutter and includes a fog-free mirror perfect for shaving. The push-button dispenser pre-measures each pump neatly and conveniently. The top shelf holds extra bottles and shower items, the soap tray plus hooks offers a handy place to hang razors and washcloths. The smooth pump offers a Lifetime warranty.

The Dispenser installs in quickly without tools using silicone glue and two-way tape (included).




73334: 13"W x 3 5/8" D x 11 3/4" H
Ulti-Mate Soap Dispenser Manual

Ulti-Mate Soap Dispenser
Installation Instructions