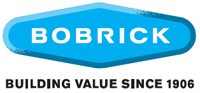 Bobrick Washroom Equipment, Inc., the leading washroom equipment manufacturer in North America celebrates a 100-years of creative innovations and new concepts for functional washroom products and solutions. Bobrick has set the world's standard for hygiene in the washroom.

In 1906 inventor G.A. Bobrick started a new company to produce industrial chemical cleaners in Los Angeles and had soon produced the first U.S. patented Bobrick soap dispenser. Bobrick established an Eastern Division in 1958 in Brooklyn facilitating its growing number of product firsts and in 1961, with the introduction of a unique and conceptually new line of recessed stainless steel multi-purpose washroom units, the first of its type. In 1974, Bobrick moved its Eastern Division north to Clifton Park.

Purchased by William S. Louchheim in 1946, the company's presidents have included Gordon S. Bodek beginning in 1970, and two additional generations of Louchheims, with the appointment of Sandy Louchheim in 1985, and current president Mark Louchheim serving since 1993.

In 2001, Bobrick starts a new century with the introduction of a new concept in soap dispensers with the introduction of its SureFlo™ Soap Dispensing System and SureFlo™ Hand Soaps. The new system links a single under-the-counter soap cartridge with multiple lavatory mounted soap dispensers. The system can deliver up to 13,000 hand washes and includes a reservoir, which supplies 2,000 additional hand washes. The new system allows building managers to take control of soap dispenser performance and costs for true value.
The Bobrick family of products includes Contura(TM) Series stainless steel washroom accessories with distinctive arc design, Eclipse(TM) warm air hand dryers, the Bobrick soap dispenser including the SureFlo(TM) Soap Dispensing Systems and Hand Soaps, Sierra(TM) Series non-ghosting graffiti removal and scratch resistant toilet partitions and Koala Kare(TM) child accommodation products acquired in 2004. Celebrating its centennial anniversary in 2006, Bobrick acquired General Accessory Manufacturing Company (GAMCO) from the Liberty Hardware Group of the Masco Corporation. Bobrick's GAMCO Division manufactures stainless steel, as well as specialty metal and finish washroom accessories used in non-residential buildings.
The Corporate Headquarters and main plant is in North Hollywood, California, plus manufacturing, customer service facilities and distribution centers in Clifton Park, New York, and Jackson, Tennessee. The Koala Kare Products Division in Centennial, Colorado, the GAMCO Division in Durant, Oklahoma and the Canadian Headquarters and manufacturing plant in Toronto, Canada. Bobrick International has representatives in Europe, Australia, the Far East, Middle East, Africa, Central and South America, and the South Pacific Islands. Distribution centers have been added in the United Kingdom, continental Europe, and Australia to support these markets.