Bradley™ Soap Dispenser

The Bradley Corporation has been a leader and innovator in washroom accessories for almost a century. In 1917, Harry Bradley set out to find a way to reduce the floor space required for sinks. The goal was to help workers wash their hands quicker so they didn't have to spend their entire break standing in line. By 1918 his wash fountain prototypes were created, this prototype allow multiple users to wash their hands very quickly. Word soon spread of this revolutionary product and the Bradley Corporation was born.
Take a look at the variety of soap dispensers offered by Bradley: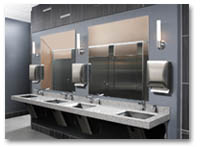 Innovation is a hallmark of any successful business. Over the years, Bradley has used innovative thinking to create a diverse product line of soap dispensers. The combination of creativity, craftsmanship, quality and elegant design continue to drive product innovations now, and into the future.

The lasting success of Bradley has been possible due to their many years of innovation. When it comes to Bradley washroom accessories, customers will always find the best. The current products and products scheduled for release in the upcoming year will again set the pace for the industry and make it even easier for architects, engineers and customers to get the soap dispenser that accentuates their restroom or washroom design and decor.
Bradley Soap Dispenser in the Restroom
Bradley soap dispensers are designed to dispense a vast variety of all-purpose hand soaps and sanitizers. Choosing a Bradley soap dispenser allows significant savings over your standard proprietary products. In addition to being very affordable products, Bradley soap dispensers can also save you money by controlling the amount of soap or hand sanitizer dispensed during each use. While it doesn't seem like a big expense at first glance, over the years wasted products and refill time can add up.

When choosing a soap dispenser is very important to pick one that is not only cost-efficient, but you also need one that is durable and can stand the test of time. Bradley soap dispensers are vigorously tested in high-traffic settings for hundreds of thousands of cycles to ensure that they are built to last. You can purchase Bradley soap dispensers that are created from either stainless steel or ABS plastic. Both materials are considered excellent choices and designed to stand the test of time. Many of the models mentioned on this page are also ADA compliant.

Depending on whether you are purchasing your soap or hand sanitizer dispenser for a newly constructed building or a pre-existing one. You will need to consider how you will mount your new unit. Often times when buyers have the luxury of installing a soap dispenser in a newly constructed room, they choose a recessed mounting option. This means the soap dispenser will actually be mounted into the wall. This requires that a hole be cut into the wall and that the wall has enough depth to house the dispenser. While this can be one of the most aesthetically pleasing options and ADA compliant, it is not always an option for every buyer. If you are installing your new Bradley soap dispenser in a pre-existing environment, you may not have the luxury of deep walls. This means you may have to choose a surface mounted, or semi-recessed unit to meet your sub dispensing needs. Luckily there are many models available of this mounting type.