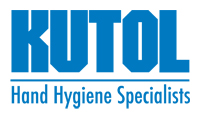 Kutol Products Company is based in Cincinnati, OH. Established in 1912, Kutol Products Company has enjoyed a long and successful history in manufacturing commercial hand hygiene consumables and dispensers. They offer the broadest line of hand soaps, hand hygiene products and soap dispensing systems in the business. Kutol manufactures 100% of our products in our modern, FDA-registered facility in accordance with stringent government guidelines. Buy with confidence, knowing that all products are manufactured in compliance with government regulations and Good Manufacturing Practices.
Kutul Clean Shape
Disposable Soap Dispensers

Available in traditional Liquid soap, plus three Foaming varieties, the Clean Shape disposable dispensing system is the perfect option for any operation. The unique design, pearlized finish and attractive labeling complement every decor. Clean Shape bottles remain stable when pumping and comply with ADA guidelines. The foaming product line includes Green Seal™ certified Luxury Hand Soap. For added functionality, a matching economical wall bracket is available. For more information about the Kutol Clean Shape Disposable Soap Dispensers click here.

Kutol Catalog

EZ HAND HYGIENE Foam & Liquid 1000mL
EZ HAND HYGIENE "NO TOUCH" Foam 1000mL
EZ FOAM COUNTER MOUNT SYSTEM 1000mL
BAG-IN-BOX 500mL, 800mL, 1200mL
BOXLESS BAG 1000mL
DURAVIEW 2000mL, 4500mL
CAPACITY PLUS 3.5L, 8L
EASY PUSH 800mL
HEALTHGUARD 1200mL
GALLONS - POUR TOP, FLAT TOP, PUMP
1.7oz., 4oz., 8oz., 15oz.
PASTE 4.5 lb.