WAVE™ Soap Dispensers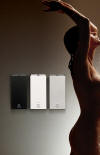 WAVE™ Soap Dispensers were introduced in 2007 in Europe and the United States. This stylish and elegant Wave™ soap dispensers has a sleek and simple lines. Manufactured by Better Living Products, the WAVE™ liquid soap dispenser is easy to install and reliable. The Pump comes with a lifetime warranty from the manufacture. Designed for the shower, bath, or kitchen the WAVE™ soap dispenser is the most innovative soap, lotion, shower liquids, and hand soap dispenser for home, hotel, corporate offices, and exclusive restaurants.
Elegant
Key Lock
Easy to Fill
Easy to Install
Manufactured to Last
Available in four colors
Use the WAVE™ Dispenser in the shower, bathroom, or kitchen. This dispenser can be used to dispense shower gels, bath soaps, shampoo hand sanitizers, and lotions.